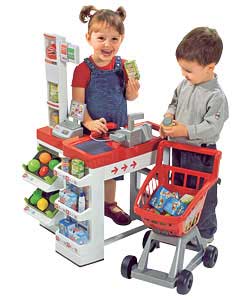 Last year, my classmate Laurie Rossi and I did a project for a stats class where we timed a bunch of supermarket checkouts to determine which was faster. Waiting in line for a cashier or heading to a kiosk. We came up with some interesting findings:
Never use the kiosk if you have more than 10 items. It takes 6x longer to scan one item at a cashier. This multiplier effect becomes more apparent the more items you have. If you have 3 items, it will probably take a cashier around 6 seconds to scan them and 18 seconds for a kiosk. This is only a 12 second difference. Let's say you have 15 items, cashier will take 30 seconds and the kiosk will take 3 minutes!
Never use the kiosk if you have produce. The time it takes to look up the produce codes using the machine takes a long time. The cashier has the codes memorized and can input them in seconds.
Never use the kiosk if you are paying cash. The process of inserting bills into the bill reader is slow and cumbersome.
Assuming you have less than 10 items and little to no produce, you will always get out of the store quicker using the express line cashier unless there are more than 3 customers waiting in line for the cashier.
The only time using a kiosk makes sense is if you have a small number of items, little to no produce, are paying with credit or debit and are technically savvy enough to know how to work a touchscreen and barcode reader.
You can view the full report here